A Summer Garden Party
Thank you to the Chinet® brand for sponsoring this post.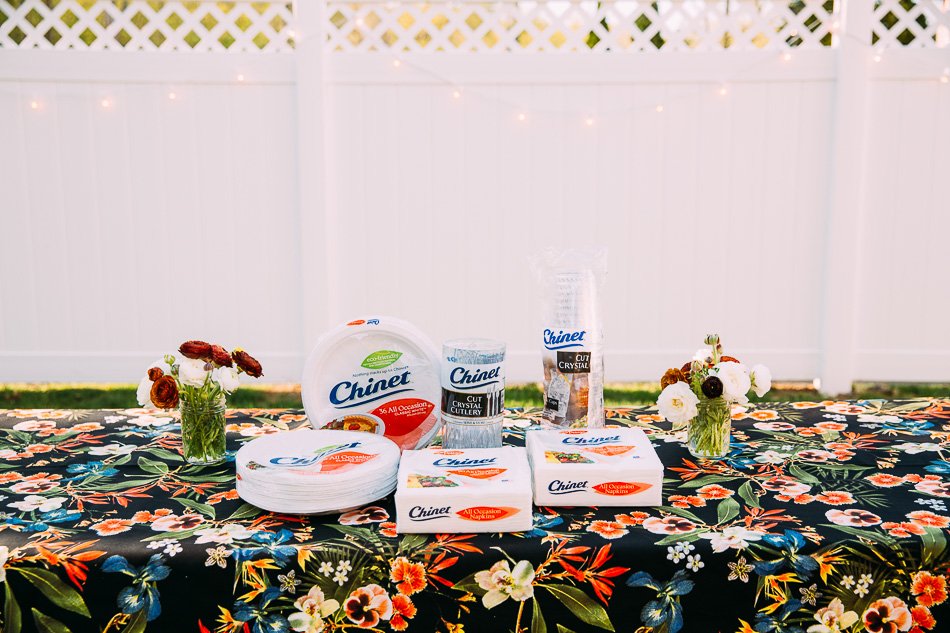 Click the Image Above to Shop!
Spring is quickly blossoming into summer and as the season turns, my favorite time of the year begins — time for outdoor entertaining. There is nothing that I love more than sitting outside in nature, enjoying good food, good drinks, and good company. Every year at this time, I throw a little get together with my favorite ladies. We call it a "Girls Night In" and each year I choose a different theme. Since I am all about growing everything this year, I chose to do a garden party theme. A little further on in the post, I'll share some tips on how you can throw your own, but first I want to talk a little bit about entertaining. When it came to hosting friends and family, I was always very hesitant. I worried about being enough—having enough food, having it taste good enough, having the right space to host enough people, having the house clean enough, and so on. These little hang-ups held me back for awhile. Then one day, I read this great article all about how your loved ones don't care about "perfect" hospitality, they care about you. Hosting doesn't have to be stressful. All you need to do is open up your home and invite your loved ones in! It really is that simple.
While there are all types of get-togethers from casual to fancy and everything in between,one thing that always makes a difference is having dinnerware that is thick, sturdy, and strong enough for extra helpings. That's why I used Chinet® Classic White™ plates for this party. These plates check off all of those boxes and even more importantly for me, they are eco-friendly and made in the USA. They are made from 100% recycled material that can be composted after use. Chinet Classic White products make serving and cleanup easy, so you can spend more time with friends, family and guests.
I have hosted a lot this past year, from a formal Thanksgiving dinner, to detailed birthday parties, to simple backyard BBQs. I take any excuse to get my family and friends together. Time with my loved ones is so precious to me and inviting them here to spend time, catch up, and enjoy each other's company is everything.
For this party, the girls were headed over after work and I had already had a busy day with the kids, so I kept things simple, yet fun and elegant. I strung globe lights on the fence and covered the picnic table with a pretty piece of fabric that I bought on sale at a local craft store. I had simple folded table cards on hand, so I used a black marker and wrote out a name card for each of us for an added touch of class. I kept the menu simple with an assortment of appetizers, crackers, chips and dips. We shared a nice cold bottle of Sauvignon Blanc which is my go-to refreshing wine pick for a warm night outside.
After a bit of eating and sipping, we started our garden projects. I picked up a few pretty fabric planters while I was getting the fabric for the table. The planters are fun, but any container that allows for drainage will do. I picked up a big bag of soil and a bunch of herbs from a local greenhouse. We each made a pretty little herb garden of basil, mint, and lavender for our porches. It was so simple and still such a fun and special way to kick off the transition of spring into summer.
After planting it was time for a bit more chatting and laughing as the sun disappeared behind the mountains. As always, I had a fabulous time with my ladies. Each time we get together new memories are made and there is always fun to be had. I cherish these friendships so much and I am so grateful for them. Finding ways to make memories around the table will always be a joy for me.
The worry over "not being enough" should never be a reason to hold back from getting together with the ones that you love. There are so many ways to simplify gatherings, to minimize the stress, and maximize the love. Using Chinet Classic White products is one way of doing just that. You can learn more about Chinet Classic White products on the product page here.
I was selected for this opportunity as a member of CLEVER and the content and opinions expressed here are all my own. Chinet® and Classic White™ are registered trademarks of Huhtamaki, Inc. in the U.S. and other countries.