An Easy Weeknight Meal with Village Harvest
Thank you Village Harvest for sponsoring this post. Every day Village Harvest is planting seeds of change and growing possibilities, one bag of goodness at a time.
Hello, friends! I am so excited to share today's post with you because it features my new favorite recipe. It's plant-based and super easy to make. The recipe features rice from the Village Harvest Origins Collection–a new line of smart, simple meal solutions that bring your meal to life in 90 seconds. This busy mama's dinnertime dream come true.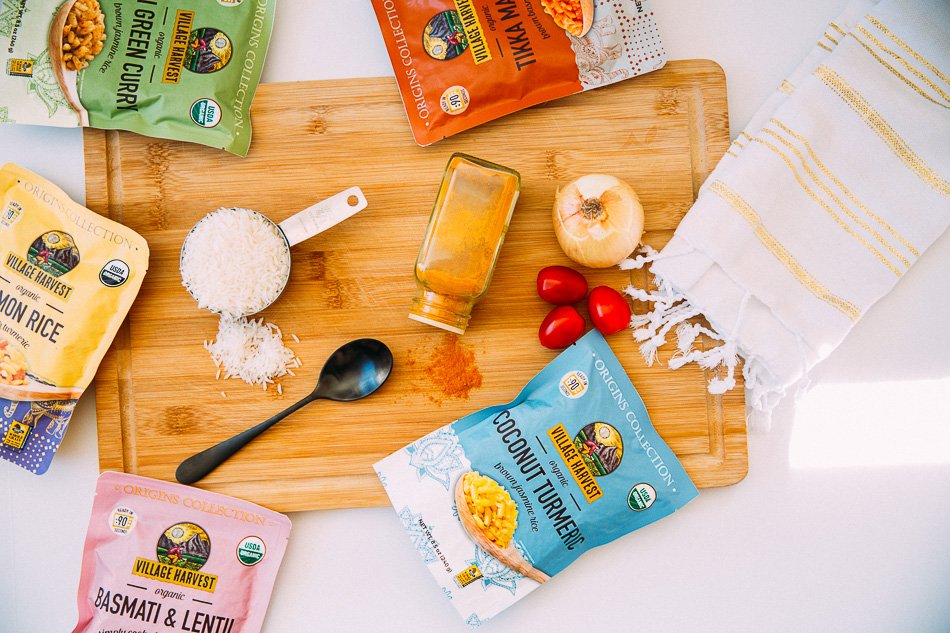 As a mama to my two little ones, and a business owner, you know that I am always looking for convenient, healthy meal options for my little family. I was so excited when we were recently invited to try Village Harvest because it's been making dinner prep such a breeze for me.
You can purchase the Origins Collections in the Village Harvest E-commerce Shop right here. Read on to learn more about the collection and to see my new favorite recipe.
Before I start, let me tell you a little bit about my love affair with Indian food. I fell in love with Indian food while working in one of my first jobs out of college. There was this amazing Indian restaurant on the first floor of the office building where I worked. A co-worker invited me for lunch one day and I was excited to try Indian food for the first time. We had a little bit of everything including naan, palak paneer, and tikka masala. I was hooked since that day and determined to one day learn how to make those delicious recipes myself.
Fast forward about ten years later and, sadly, that never happened… until recently. Yes! I finally took the plunge and purchased a bunch of Indian spices and started experimenting. I couldn't believe how easy it was to make the recipes that I fell in love with all that time ago. When I was invited to try out the Origins Collection, I knew that it was a perfect time to experiment with my favorite Indian spice mix–Garam Masala. I used the spice mix along with a few simple ingredients, combined with my favorite rice from the collection–the Coconut Turmeric blend–and it was perfection.
Now let's get into this recipe! Here's what you'll need:
Ingredients
1/2 packet of Village Harvest Coconut Turmeric Brown Jasmine Rice
1/2 can chick peas, drained
handful of grape tomatoes, halved
1/2 medium onion, diced
4 garlic cloves, diced
2 vegan sausages — you can use anything you like here, chicken, beef, shrimp, tofu, tempeh, any protein works beautifully in this dish
3 tablespoons olive oil
2 teaspoons garam masala spice blend
1/2 cup almond milk
Directions
Add olive oil, onions, and garlic to a frying pan. Cook over low to medium heat until slightly translucent. Add in your protein, raise heat slightly, and cook thoroughly. Stir frequently to avoid any burning. Add chick peas and garam masala, stir and simmer over low heat for 4 minutes. Add tomatoes and simmer over low heat until tomatoes are slightly sautéed. Add almond milk. Cover and allow to simmer over low heat for 8 minutes. Cook rice according to package instructions. Et voila! Your meal is ready.
Spoon a generous portion of rice onto each plate and pour the masala on top. So good, so easy, so healthy. I am not the best cook in the world, but this dish honestly tasted like restaurant-quality. The ingredient amounts above made 3 generous portions, one for each of us. If you're cooking for a larger crowd or want leftovers (trust me, you will!) you can double the amounts above.
I love how the Thai-inspired coconut turmeric rice compliments this dish. I even sprinkled a bit of chopped coconut over each serving for a pretty garnish. There are also four other Village Harvest Origins Collection Varieties–from India: Basmati & Lentil, Lemon Rice, and Tikka Masala; and from Thailand: Thai Green Curry. We've tried them all and each one is more flavorful than the next. The entire collection is Organic & Non-GMO, 100% Whole Grain, and Gluten Free.
It's so important to me that my children experience a variety of foods and tastes within their diet. I always want to encourage them to try dishes from other cultures and expand their palates. I love to include them in the process of creating meals and I always try to use fun colors that catch their eyes and get them interested in what's on their plates.
I hope that you will love this recipe as much as I do. In terms of convenience and deliciousness, it really can't be beat. It's also so versatile. You can experiment with whatever ingredients you have on hand and try different versions with all of the varieties in the Village Harvest collection. Being able to pop that flavorful rice right into the microwave with no other prep needed, is such a blessing at meal-time.
If you're hesitant about cooking ethnic food at home because it's unfamiliar, my advice is to just go for it. I was so intimidated for the longest time but over the last couple of years as I've been experimenting more and more, I realize how simple it really is, especially with all of the convenient and healthy options that are available now. You don't always have to go to a restaurant to get something amazing and fun. You can do it right in your own home without much fuss at all. I promise you that if I can do it, so can you. 🙂
Here's to happy, healthy eating! xo
I was selected for this opportunity as a member of CLEVER and the content and opinions expressed here are all my own.