Trading Cash for Experience: Sugar Loaf, New York
Preface: I'm not a fan of money, spending money, or obtaining material possessions. In my life, I practice minimalism whenever possible.

My opinions about money & possessions are largely shaped by my financial history. Despite the facts that I am frugal & that money is not my favourite thing, there is one thing that I am willing to spend my money on and that is: experience.

I absolutely love to experience new places & things—exotic locations, adventures, art, culture, delicious foods: YES PLEASE! The reality about these things is that (in most cases) they cost money. But I'm okay with that. I'm happy to trade my hard-earned dollars for beautiful experiences.

This series—Trading Cash for Experience—features a few of the occasions where I decide to trade my $ for experience. Enjoy!
On Saturday, Matthew & I took an impromptu trip to the Sugar Loaf, New York Artisans Village. Sugar Loaf is a community of creative craftspeople and artists nestled under Sugar Loaf Mountain in picturesque Warwick Valley, New York. Sugar Loaf is surrounded by apple orchards and horse farms. It has been a crafts community for over 250 years. Today, Sugar Loaf remains true to its heritage as the year round home of over fifty independent business men and women. Many of these artisans live and work in the original barns and buildings which date back to the 1700's.
When I was a girl, my family lived in the town next to Sugar Loaf village—Warwick, New York. To this day, visiting Sugar Loaf brings back warm memories like pumpkin picking, crafting, and hay rides through the village at Christmastime.
I'd been wanting to visit for awhile now and I was thrilled when Matthew agreed to be my date for the day. We arrived in the village in early afternoon and had a delightful time scouring the artisan shops. I haven't written too much about it yet, but we have been renovating our home for the past two years. We are finally nearing the end of our renovations and decorating is constantly on my mind.
Sugar Loaf is the perfect place to find one-of-a-kind decor, trinkets, and specialty items. We explored all of the galleries, the magick shoppes, and so on. When our legs got tired we stopped for a break & some grub in one of my absolute favourite restaurants—The Barnsider Tavern.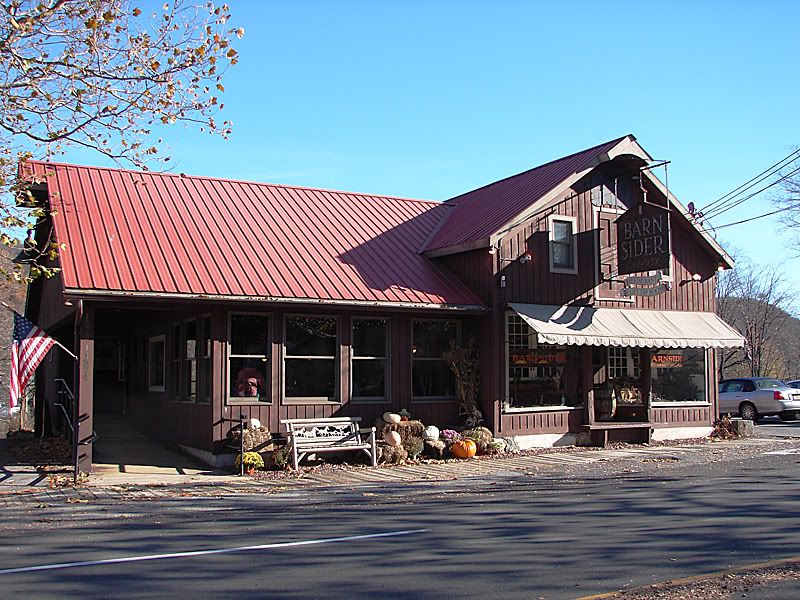 I had the French onion soup which is absolutely the most delicious soup this side of heaven! It is spiced to perfection & loaded with savory onions & warm bits of bread. The whole thing is topped with a generous helping of delicious, melted cheese.
After lunch we headed out for a bit more treasure hunting. We purchased two incredible-smelling candles—french vanilla & homemade sugar cookie; a bag of hazelnut vanilla wax bits for our burner; and a small glass jar full of sea-glass for my soon-to-be new office.
The house has smelled like the most incredible baked goods ever since and I haven't even had to turn on the oven! 😉
Hope you all had a gorgeous weekend, my loves! Happy Monday.
xo,
Dena