a little chat about health & supplements
This shop has been compensated by Collective Bias, Inc. and its advertiser. All opinions are mine alone. #NatureMadeHeartHealth #CollectiveBias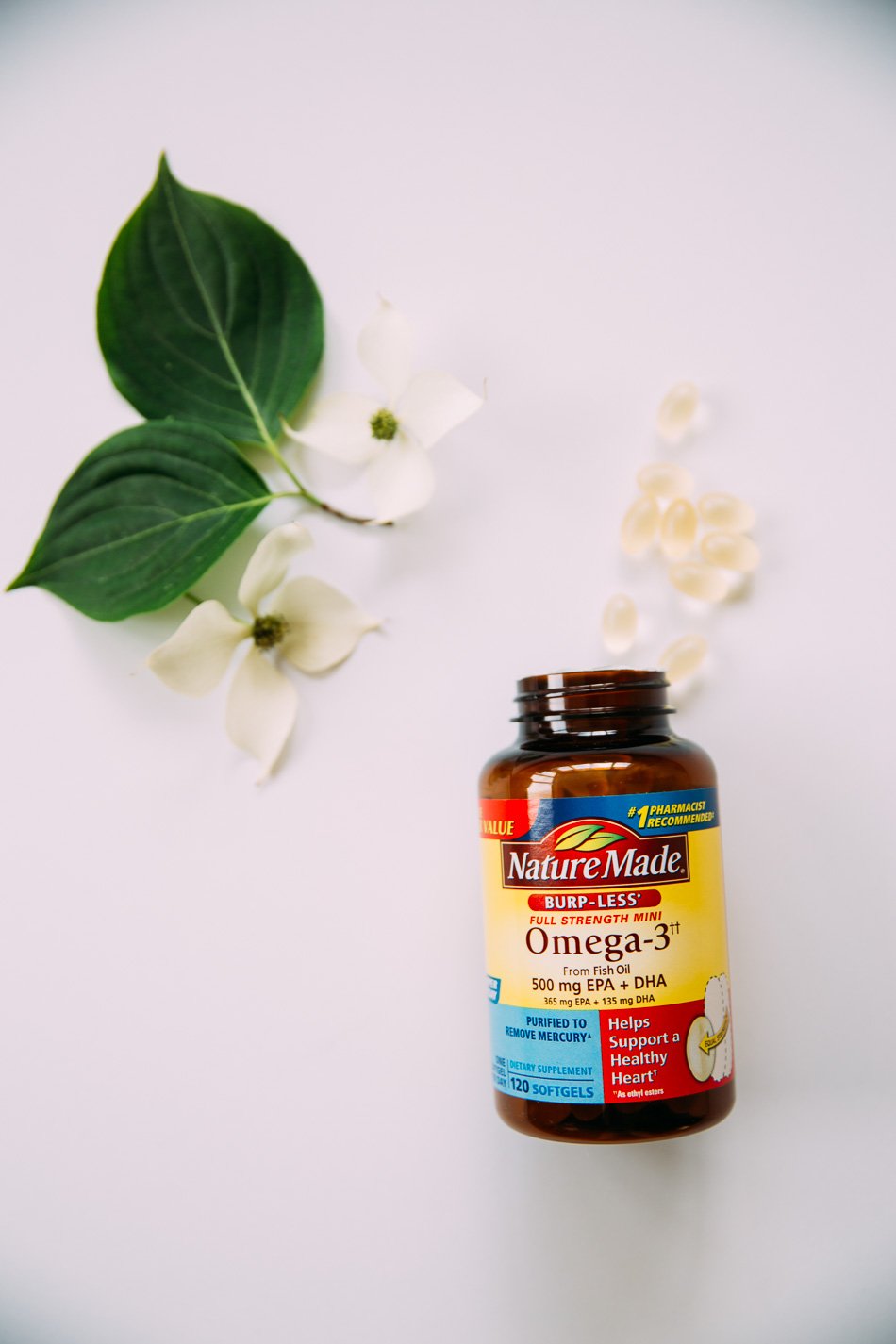 Focusing on proper nutrition, living an active lifestyle, and taking supplements are major parts of my wellness routine. I have been taking supplements for 11 years. I take a variety of supplements that benefit me in various ways from EPA & DHA Omega-3s, probiotics, to zinc, to magnesium. Today, I am going to talk about the former, EPA & DHA Omega-3s. This is actually the supplement that I have been taking the longest. I began taking Omega-3s all the way back in 2007 and they have been a regular part of my supplement routine ever since.
Talking about health is always on my agenda. If you follow me on Instagram, then you know that I recently started taking yoga again and it has been such a blessing for my health. Whether it's emotional health, physical health, spiritual health, exercise or nutrition — maintaining balance in our lives is everything. I consider myself pretty health-conscious, though far from perfect. I believe that we have one wild & precious life and that we should do everything we can to nurture it. Sure, having fun is important too, but when I make healthy choices, I feel better, and that in itself makes life more beautiful & fun in its own way.
​
While there are lots of good reasons to take Omega-3s, today, I am here to talk about the brand that I take and a recent change to their packaging. I have been taking Nature Made® Omega-3 supplements for several years now. Nature Made® Omega-3 Full Strength Mini, 500mg EPA+DHA, Burpless recently changed their packaging to clearly call out the amount of EPA & DHA Omega-3s on the front of the label. The reason for this is that EPA & DHA Omega-3s are the active ingredients in fish oil that provide heart healthy benefits.†​
There are lots of reasons why I choose Nature Made® over other brands. Primarily, Nature Made® is the #1 Pharmacist recommended vitamin and supplement brand*. Additionally, Nature Made® fish oil supply only comes from wild caught ocean fish, not farm raised fish. Nature Made® Omega-3s are purified to remove mercury‡ and there is no color, artificial flavors, yeast or starch added. Nature Made® also offers many burpless options which help to prevent a fishy odor and aftertaste.
As I mentioned earlier, there are several reasons as to why I personally take Omega-3s but the most important reason is the fact that fish oil is a great source of naturally occurring Omega-3 fatty acids. Omega-3 fatty acids are healthy fats that should be included in most people's diet for their heart healthy benefits†​. The two primary Omega-3 fatty acids found in fish oil are EPA and DHA.
If you are interested in trying Omega-3s for yourself, you can find them at Walmart. With this change in labels, it is now easier for us shoppers to navigate the "fish oil" segment and to be confident that we are choosing the right Omega-3 supplement. Nature Made®'s new packaging makes it easier than ever to get what you need.​ Remember that fish oil is a great source of naturally occurring Omega-3 fatty acids.
If you have any questions about this post or would like to hear more about the other supplements that me and the kids take, let me know. I'd be happy to write more on this topic if there is any interest. You can also text OMEGA3 to 555888 and watch a quick video from Nature Made to learn more about your Heart Health and Omega-3s at Walmart​!
‡ State-of-the-art purification processes to remove PCBs, dioxins and furans, and mercury to ensure purity levels below 0.09 ppm, 2 ppt WHO TEQs, and 0.1 ppm respectively.
† These statements have not been evaluated by the Food and Drug Administration. These products are not intended to diagnose, treat, cure or prevent any disease.
* Based on a survey of pharmacists who recommend branded vitamins and supplements.