SPRING FITNESS CHALLENGE: Week 2 Wrap-Up
Week 2 Challenge Theme: DETERMINATION.
Morning Power Walk
Today, I woke up earlier than usual at 6:00 a.m. It felt heavenly to wake just as the sun was rising. I got up early because today was the day that I started power-walking! I've been wanting to start since the beginning of the challenge, but bad weather & useless excuses kept getting in the way. But this morning, everything was perfect. I woke, did some light stretching, and off I went!
It was gorgeous. The birds were singing their special song reserved for the early morning hours when most of the world is still asleep. Even the trees seemed to whisper happy thoughts to me as I walked by. The sun was shining and the morning dew caught glimmers of light and made the grass sparkle like crystals. It was perfect and I was so grateful. What a wonderful way to start my day. Yes, I could use a habit like this. 🙂 Exercise and the beauty of nature.
Intermittent Daily Fasting
On Wednesday night I was browsing through some of my favourite blogs and Twitter streams when I came across Matt Madeiro's blog, three new leaves. Matt lives a simple, healthy lifestyle and one of the ways that he does this is through Intermittent Daily Fasting (IDF). See here and here. I was completely fascinated by this idea. I love fasting. A few years ago, I did the Master Cleanse for four days with incredible results. Since then I've tried to do a few more fasts, but haven't had much luck. Going full days without real food is a challenge for me.
Intermittent fasting is different though, in that you fast every day for shorter periods of time by implementing eating windows. For example, many people choose to eat only from 12 noon to 8:00 p.m. every day and then fast the remaining hours of the day. Now this is something that I can do! When I read about the amazing results that Matt has had, I did some more research and found similar success stories. The Spring Fitness Challenge is a perfect time to give this method a shot and if I like it, who knows, I may have just stumbled upon a new lifestyle choice. I'll let you know how it goes. In the meantime, here are a few more posts about IDF that I found useful: one, two, three.
Simple, Healthy Recipes
As a part of the challenge, I've been experimenting with simple, healthy recipes. I am all about simplicity. My cooking skills have vastly improved over the past few years, but I'm not one to happily spend hours in the kitchen. In fact, my favourite meals are the ones that I can whip together in 25 minutes or less. Here are a couple of my favourites that I've been enjoying since starting the challenge.
Simple Broccoli, Mushrooms, & Cashews Stir Fry
Ingredients
Extra virgin olive oil
Broccoli crowns
Sliced mushrooms
Minced garlic
Artificial crab meat
Raw cashews

Instructions
Heat up a skillet with the olive oil & garlic. Break the broccoli crowns into pieces and throw them into the oil. Let them cook for a few minutes until slightly tender. Add in the crab & mushrooms. Drizzle soy sauce over the ingredients. Simmer until mushrooms are cooked. Throw in the cashews & one more splash of soy sauce if needed. Cook until the cashews are slightly tender & veggies are slightly browned.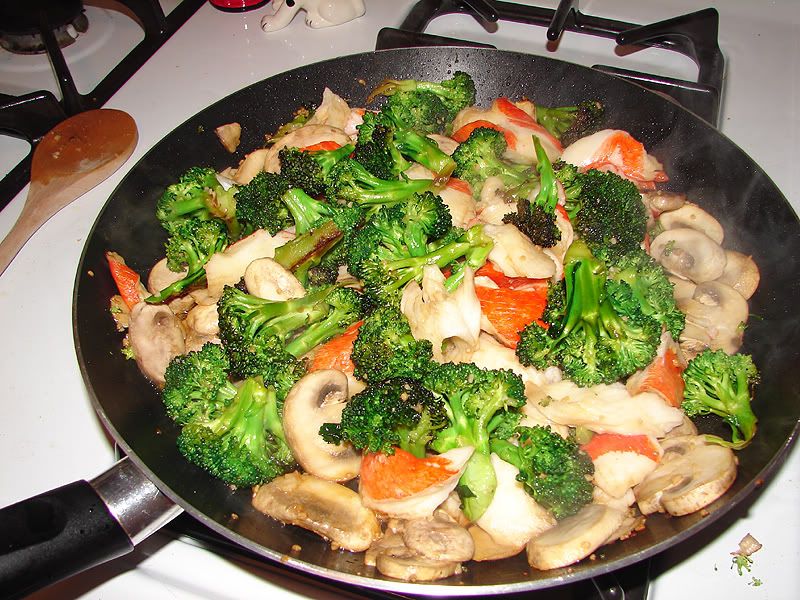 Meat-Free Meatballs
Ingredients:
Chick peas
Bread crumbs
Egg (cage-free, organic)
Olive oil

Instructions:
In a bowl, mash the chick peas with a fork until you have a thick paste. (Doesn't have to be perfectly mashed, some chunks are fine.) Add one egg for every can of chick peas that you use. Add in bread crumbs and olive oil and mix everything together. Consistency should be thick enough that you can make "meat" balls. Form your balls.  Finally throw them into the frying pan with olive oil and fry until golden brown on all sides.
I realize that there is a lot of pasta on that plate, but not to worry. That portion stretched out over a few days with more meatless balls added each time. Head over to the forum to check out recipes from the other challenge participants and to share your own.
Week Two Reflections
Week Two has been a bit of a roller coaster week for me. Some days I've been a rock star and other days more of a fading firefly. 😉 But overall, it's been a good week. I've stuck with most of my goals and feel a lot better about Week Two than I did about Week One. So far, I haven't seen too much progress in terms of actual weight loss (my goal for the challenge is to lose 8 lbs. total) but I have faith that experimenting with IDF will give me results. If I stick to my morning power walk, that will be another positive. And finally, while the scale has remained pretty consistent, this morning I really liked what I saw in the mirror. Progress? Optimism? Either way, I feel great!
Reminder: Weight loss is as simple as burning more calories than we consume. Remember this week's theme: DETERMINATION and finish out the week strong!
In love & light,
Dena